Mission
Increasing the number of low-income, first-generation, and underrepresented high school students who enter and complete higher education.
Vision
Virginia College Advising Corps addresses structural inequities in the education system that have systematically advantaged some populations over others. We have a responsibility to our students, our communities, and our Commonwealth to understand how these historical injustices continue to impact current day opportunities and outcomes.  We are fierce advocates for low-income, first-generation, and underrepresented students, and believe that access to higher education is paramount to racial and economic equity.  We are working towards a day when race, socioeconomic status or zip code are no longer factors in educational outcomes.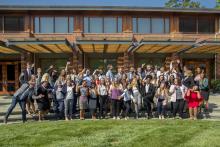 VCAC members, working in the counseling offices of 53 Virginia high schools, advise students who might otherwise not think about higher education.
Erica Wood, who served for two years as a Virginia College Advising Corps adviser at Eastern View High School in Culpeper County, is one of five 2021 National Service Winners.
The day recognizes seniors' futures – college, trade school, military, and workforce.